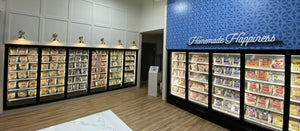 Locally Founded. Locally Handmade.
From our freezer to yours…swing by any of our stores or shop online for a better way to make your day (and your meals!).  
Our retail freezers are stocked with craveable 'barely lift a finger' meals (3 and 6 serving size), sides, apps and desserts. Most are freezer-to-cook in less than 30 minutes and all are easy enough for almost anyone to make.  
We've curated a wide variety of refreshingly affordable options - easy to shop in-store, or online filtering by protein and dietary preferences. We believe a well-stocked freezer makes for a well-lived life and that shopping should be as effortless as making our meals.  
Let's Dish!, a small local company, is committed to making mealtime simpler and tastier for busy families, with wholesome, healthy, handmade meals.
Our Menus
Our stores are stocked with over 80 items including meals (3 and 6 Serving sizes), apps, sides, and desserts. You'll find Favorites - which are meals, sides and apps available all year long,and Seasonal Meals - meals that we rotate in and out with the season for ongoing new variety.
You'll find a wide arrange of flavor profiles, cook methods, and dietary preferences....all locally made here in Minnesota by our own Let's Dish! team. While have the widest variety of meal options available, what they all have in common is that you can store them in your freezer so they're ready whenever you are to cook and serve.
All of our ingredients and nutritional information is posted online for each item, and you can easily shop online for your taste and dietary preferences. Our team members are also available in store to help answer any questions and make recommendations for you.
3 Servings - $19/ 6 Servings - $32
Services
Pre-Assembled Meals
Shop Now
Delivery
Deliver a Tasty Gift for Any Occassion.
Make Someone's Day
Gift Cards
The Perfect Gift for Everyone on your List.
Shop Now